The first time I travelled to see Wexford play at Croke Park, I burst out crying at the final whistle.
The date was July 8th, 1984 and the occasion was the Leinster hurling final against Offaly. I was seven years of age.
I don't know for sure at this remove whether I had fully expected Wexford to win, but I suspect that I did. I do remember that the excitement generated by those around me following a late Wexford goal – a score that had reduced the gap to the minimum - made me feel like our victory was inevitable.
I think the referee blew the final whistle on the Offaly puck out. The feelings of shock, deflation and disappointment, while borne by most Wexfordians in varying degrees of stoicism, only succeeded in reducing me to tears.
Looking back, three things in particular stick out in my mind from that day. The first was spotting Tony Doran as he ran out on to the pitch before the game and watching him flash his hurl back and forth across the grass, practicing his swing. Doran, although past his best, was still the big star and he had obviously been on my mind. It is no surprise, then, that my second memory is a snapshot of the same man scoring a point from out the field. It remains the only score from that game that I can recall with clarity.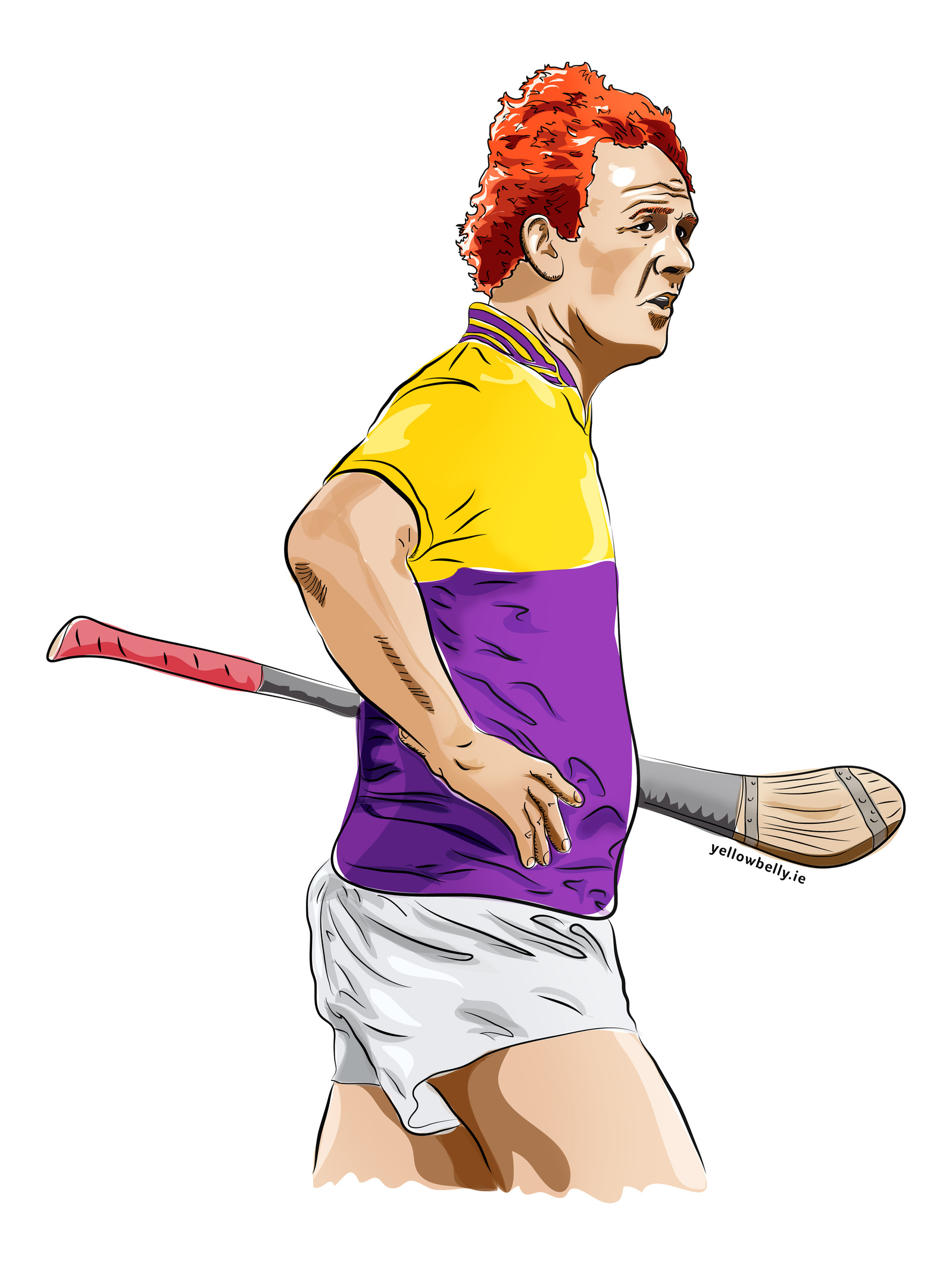 The third standout moment was the look of disappointment on my father's face when he turned around to see his only son crying on this, the first time he had brought me to see his beloved Wexford play at the home of GAA. This was not, I imagine, how he saw the day panning out.
For many years, I felt that that I had to justify my tears that day. So, in time, I pieced together what I thought was a solid enough defence.
In what was to become a familiar ritual, my father had brought me to Croke Park that afternoon with my uncle. Both were GAA fanatics and had been brought up watching the great Wexford hurling team of the 1950s make its much-celebrated breakthrough.
They saw Nickey Rackard play hurling. Not just once, but on several occasions. They probably even shook his hand.
As grown men in the 60s and 70s they watched Wexford win two more All-Ireland titles, seven Leinster championships, and although Kilkenny still managed to hold the ascendancy in the province, they did at least have the privilege of seeing Wexford beat them regularly.
For a long time, I held the opinion that those decades of sporadic success, along with victory over Kilkenny in the '84 Leinster semi-final, all but ensured that my father probably never even considered forewarning his naïve, young companion that defeat that day was a very real possibility.
After all, unlike him, I hadn't seen the Rackards, O'Donnell and Wheeler best Cork and Christy Ring. I hadn't been there when Dan Quigley lifted the cup in '68. I was only 10 months old when we reached our second consecutive All-Ireland final in 1977. And I hadn't been at the same stadium three weeks earlier when we dispatched the All-Ireland champions back down to Glenmore and Ballyhale with their tails between their legs.
Perhaps if I had been born a decade later, I used to say, my father would have sat me down as a seven-year-old the week before the 1994 Leinster final and told me that we were probably going to lose. Maybe that would have steeled me at the final whistle that day.
As it happened, I was 17 that summer and I was well past crying. By that stage, Wexford were at the tail-end of a decade of hurling desolation. Following the defeat to Offaly in 1984, we were beaten by Kilkenny in Leinster in '86, '87, '89, '91, '92 and '93 and by Offaly again in '88. We were even beaten by Laois in 1985 and by Dublin in 1990. The loss to Offaly in '94 was followed by another defeat to the same opposition the following year.
Throw in three league final defeats in 1990, 1991 and 1993 (two of which were to Offaly and Kilkenny) and it all amounted to a thoroughly rotten anthology of sporting disenchantment.
If only my father had experienced anything like the misery spawned by those successive beatings in the decade before his son's first visit to Croke Park, I thought, he might have seen it wise to pull me aside before the game and find the words that would have armed me for battle.
It took me a while to realise that he would have been wrong to do so, no matter how expectant he was of a Wexford defeat.
Yes, there were tears in '84, but that was just part of growing up. Part of realising that life doesn't always go the way that you want it to; that things don't always turn out as expected.
Part of realising that your heroes don't always win.
And though we couldn't have known it then, that Wexford would lose consistently in Croke Park for the next 11 years, what I experienced that day, though hard at the time, equipped me to deal with defeat in a way that no words of my father could ever have done. We lost again and again in the years that followed, but there were no more tears.
So now, in the summer of 2017, Wexford are back in a Leinster final for the first time in nine years. My father is no longer here, but my nephew, Drew, will travel to Croke Park on July 2nd to watch the Wexford hurlers play there for the first time.
Just like me back in 1984, he will be seven. And just as I did, he will probably expect Wexford to win. If this was happening years ago, I might have encouraged his father, Eoin, to put an arm around him between now and then and have a quiet word in his ear. Tell him that Wexford might lose. Make sure he knows that your heroes don't always win.
But he is not going to do that – and he is right. Yes, Wexford might not win, and Drew might get upset, but that is not a bad thing. It is life. It is Wexford hurling. You take the good and you take the bad. You shout, you curse, you laugh. And yes, you cry.
And if they do lose, Eoin might tell him not to worry, that sometimes - just sometimes - your heroes do win.
Because on a September Sunday 21 years ago - 12 years after I saw Wexford play in Croke Park for the first time – I watched with a mixture of euphoria and disbelief as our greatest hero, George O'Connor, was carried from the field, his body broken, his mind on fire, his teeth clenched, his gloved right hand punching the air repeatedly.
Wexford had won.
And when I turned around, this time it was my father who was crying.