News began to circulate around the village in late February that the grey mare was in foal.

In any other year, she would have been just another horse to the people of Kilanerin in north Wexford. But, as fear, suspicion and uncertainty held sway during the darkening autumn and winter months of 2020, she became something more.

Standing still and silent in the small field below the GAA pitch, she was a constant fixture during a period when many found the ground shaking and shifting beneath their feet. In a year of anxiety and pain, she offered calm and compassion.
At least that's what it seemed like to me.
Despite this, and although I stopped to greet and talk to her several times a week, I didn't know her name. I presumed she didn't have one. To her credit, I don't think she ever held it against me.

The mare belonged to Charlie O'Shaughnessy, the first man – and perhaps the last – to be as popular in Kilanerin as he is in the rival parish of his native Castletown. His farmyard is a little quieter these days, but there is still movement in the fields. He keeps a few cattle, some hens, and - almost always - a horse.

"I suppose you could say that I've had horses all my life," he told me recently. "We always had them at home on the farm in Castletown when we were chaps. We used them to harrow the land before we got our first tractor."


That tractor, incidentally, was a Fordson Major which Charlie's father, Jack, purchased in 1954 for the princely sum of IR£604. It was transported to Gorey from Athy by train and driven out to the farm by a neighbour. Even as a tender 16-year-old, Charlie knew the significance of the new machinery to his dad.

"We used horses for a year or two after that, but eventually we didn't really need them anymore. The tractor took over. We kept horses still though; we just liked having them around."

And with Charlie, that has more or less been the case ever since. When he moved to Kilanerin in 1960 to take over his uncle Ted's farm, it would have been unusual not to see at least one horse on the land at any stage over the next six decades. Apart from having them on the farm, he brought them out to lead the many traps that he either purchased or made himself over the years.
As for the grey, Charlie acquired her from a neighbour a couple of years back. When she was ready to foal last March, she was introduced to a gentle stallion in Arklow. After two promising dates over the course of that month, the couple got to know each other a little better in April, and soon the mare was in foal.

Up to the eight-month point, the pregnant mare is usually just treated as another horse. So, until February, she could be found in various fields around the farm. She was brought inside during the harsh winter months, or when the weather took a particularly bad turn.

Once she reached the nine-month mark, she was watched carefully and, from early March, she was checked in to the luxurious surrounds of the farm's most comfortable barn with water, food and hay supplied in abundance.

It was around this time that I began to take a keener interest in the mare and how she would fare as she approached the big day. And I soon learned that I wasn't alone. In fact, it became apparent around St Patrick's Day that an unofficial and loosely formed committee had been formed to watch over her as she entered the final weeks of her third trimester.

Apart from myself – the blow-in, son-in-law from the south of the county - there was Charlie's grandson, Charles, and a neighbour and friend, Henry Molloy. At the head of this select band of males, however, was Charlie himself, and the reliable figure of Gerry Kinsella.

It's probably fair to say that Charlie and Gerry have a love-hate relationship. They might be arguing ferociously one minute and chatting amicably the next. But one thing is certain; Gerry and Charlie are equally fond of horses. Even someone as unfamiliar with the animals as I could spot that a mile off.

It was also clear that Gerry was becoming increasingly nervous as the day of reckoning approached. But, as he explained, there was a good reason for this.
Charlie's last horse, a 10-year-old chestnut-coloured mare called Molly, got into difficulty during labour and sadly had to be put down. Gerry was there for the birth of the foal - and the death of the horse. Now, a couple of years later, he was determined that, whatever happened, the grey would not suffer the same fate.
It was also during this period that I discovered that the mare did indeed have a name. She had been christened Milly by Gerry's daughter, Kianna. Somehow, it seemed like the name was made for her.

While Gerry cleaned out the barn one morning, he told me that Milly was about as calm a horse as you could possibly encounter. Although she was never wild, she had become more familiar with people when she was down at the back of the football field. And she loved the attention, especially if her visitors came with treats.

Milly was due to foal on Sunday, March 28th, but that day came and went, and the senior members of the committee shuffled their feet and agreed that sometimes a mare 'can go a month over'. Gerry stayed by her side and Charlie, having seen it all before, merely said, 'she'll foal when she foals'.

In the end, it all happened in the space of an hour early on the morning of Thursday, April 8th. Not surprisingly, Gerry was on site - and a good job that he was. Help was indeed required before the foal was successfully delivered at 6am. It was a tense 60 minutes, but the outcome was a relieved committee, a proud mother, and a colt of rare beauty.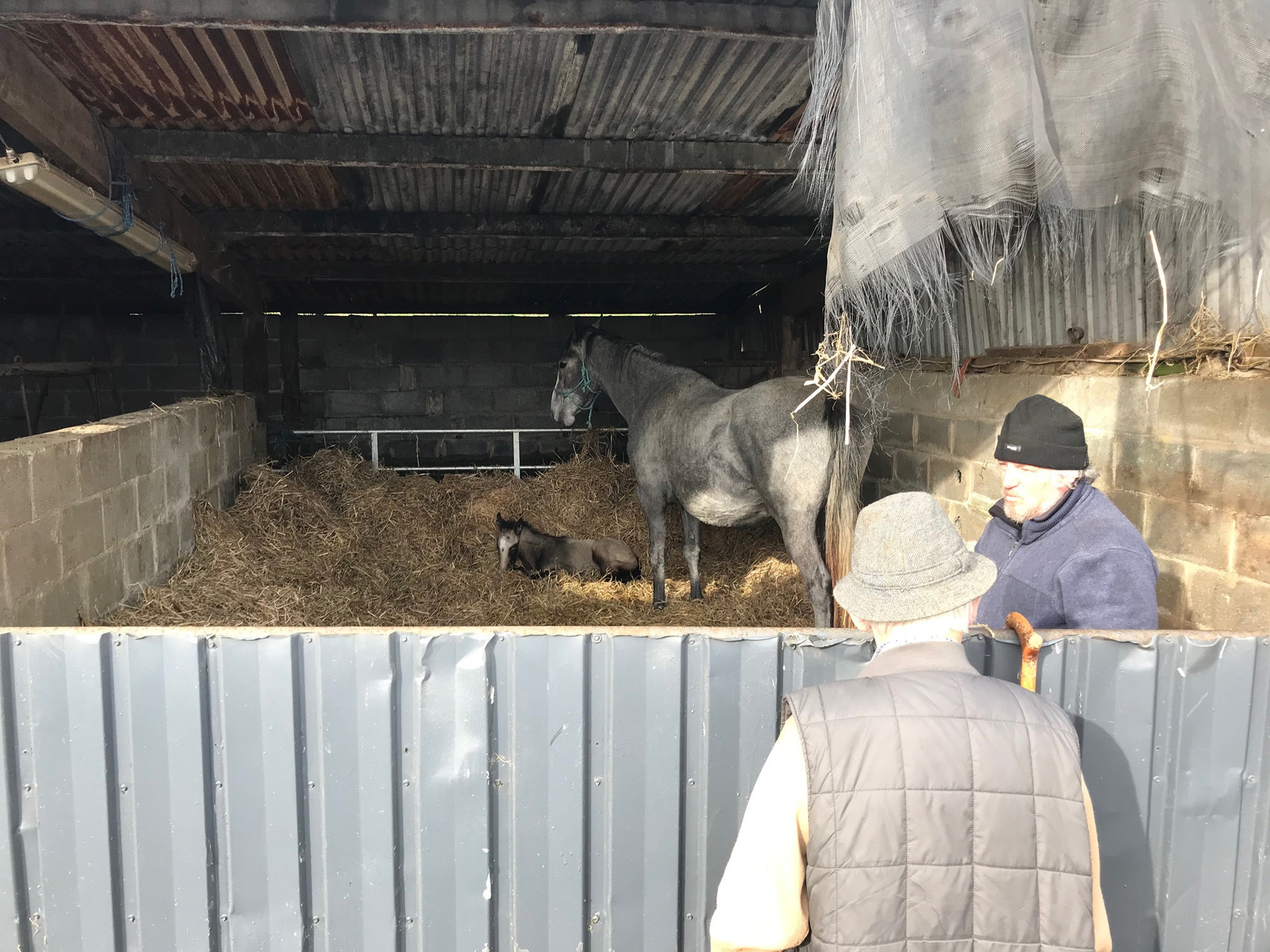 I've been told by those who know about these matters that the foal is a 'dun', as it has a light-coloured body coat, with a jet-black mane, legs, and tail. Apparently, the type of colour is produced by the dun dilution gene, which affects both red and black pigment.

Whatever produced the colourings, the foal is a wonder, and it has now become the talk of the local horsemen far more than ever was the case with his mother. Not that Milly would be the jealous type.
With all healthy and well, there was really only one matter left to resolve. Charlie doesn't really care for naming his horses. He probably knows that someone else will name them, and he's happy to go along with that.

But when he was reminded the other day that the foal was born exactly one year on from the death of his beloved older brother, well, that settled matters.

The foal has been named Jack.